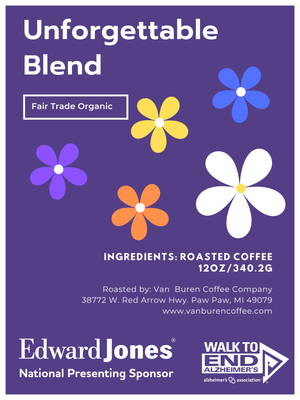 Unforgettable Blend
Sale price Price $14.01 Regular price
UNFORGETTABLE BLEND IS THE PERFECT COMBINATION OF COFFEES FROM SOUTH AND CENTRAL AMERICA. THIS FAIR TRADE AND ORGANIC BLEND HAS A LIGHT, FRUITY ACIDITY AND A RICH, NUTTY BODY. WITH UNIQUE SPICY TONES AND NOTES OF SMOOTH MILK CHOCOLATE, THIS BOLD  MEDIUM/DARK ROAST IS DEFINITELY UNFORGETTABLE. 

$4 from each bag sold is donated to the Alzheimer's Association to support the fight for a cure. Sign up for the Walk to End Alzheimer's at:
www.alz.org/walk
***Notice: If you are a placing an order as a Walk to End Alzheimer's team member, remember to use your assigned code on the payment screen at checkout for your walk to receive credit.***
If you are not sure what code to use, contact us at 269-409-1133 before you place your order and we would be happy to help! 
Since this is a fundraiser, coupons/discounts are not valid with this Cause Coffee.
Please allow a few extra days for processing with this special coffee, thank you!
Weight: 12 Ounces