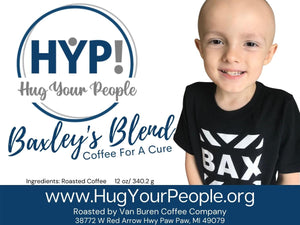 Baxley's Blend
Sale price Price $14.00 Regular price
We are so grateful for the opportunity to support Hug Your People. You are making a difference with your purchase of Baxley's Blend. Every bean counts! $4 from every bag will be donated to purchase wagons full of goodies for families struggling through pediatric cancer.
Baxley's Blend is a delicious medium roast, organic and fair trade, and roasted fresh just for you!  It has a medium body, notes of milk chocolate, a bit nutty, with nice acidity, and a creamy smooth finish.
Since this is a fundraiser, coupons/discounts are not valid with this Cause Coffee.

Please allow a few extra days for processing with this special coffee, thank you!
Weight: 12 Ounces