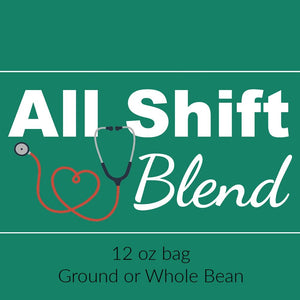 Van Buren Coffee Company
All Shift Blend - 12 oz
Sale price Price $14.01 Regular price
**Pre-orders only until May 1st** Thank you!!
Just in time for Nurses Month 2023, All Shift Blend is back! This medium-dark roast is packed with flavor, and every cup saves lives!

$4 from every bag sold is donated to the Michigan Nurses Foundation. The Michigan Nurses Foundation offers scholarships, research grants, and recovery grants. Your participation helps continue their mission of helping nurses and health professionals in Michigan!
Looking for Single Serve Pods?? Click here: vanburencoffee.com/products/all-shift-blend-single-serve-pods
Member of an LBU? See below!
Want to do more?
 www.michigannursesfoundation.org/donate
(Because of the nature of a fundraiser, coupons and discounts are not valid on the purchase of Cause Coffee.)
LBUs!! Show your support by entering your code at checkout:
AGRN - Allegan General RN Staff Cncl
AKH - Aspirus Keweenaw Hospital
ARMCSC - Alpena Reg Med Ctr Staff Cncl Unit 1
ARMHRN - Alpena Reg Med Ctr Home Care RN Staff Cncl
BCMRN - Baraga Cnty Mem RN Staff Cncl Unit 1
BSN - Borgess Staff Nurses Cncl
CMCHD - Cncl of the Muskegon Cnty HD
DCHCRN - Dickinson Cty HC System RN Staff Cncl
DIDMNA - Dickinson-Iron District MNA Unit
GLCNU - Greater Lansing Community Nurses Unit
GMCFLN - Gogebic MCF Local Nurses' Staff Cncl
GMCRN - Gratiot Medical Center RN Assoc
JCHDPN - Jackson Cnty HD Prof Nurse Cncl
JCMCF - Jackson Cnty MCF RN Staff Cncl
LCHDRN - Lenawee Cnty HD RN Cncl
LRNS - Lapeer RN Staff Cncl
LSCIRH - Local Staff Cncl of Iron River Hospital
MAST - Marquette Ancillary Staff and Technologists
MCMIRN - McLaren Central MI RN Assoc
MNASHC - MNA @ Sparrow Home Care
NOCHS - North Ottawa Community Hosp Staff Cncl
NSCMC - Nurses Staff Cncl of the Macomb Cnty HD
OCNSC - Oakland Cnty Nurses' Staff Cncl
OMHRN - Ontonagon Mem Hosp RN Staff Cncl
PCBAM - Prof Cncl of Bay Area Medical Center
PECSH - Prof Empl Cncl of Sparrow Hosp
PHPNS - Portage Hosp Prof Nurses Staff Cncl
PNAHVS - Prof Nurses Assoc of Huron Valley Sinai Hosp
PNCSF - Prof Nurse Cncl of St. Francis Hosp
PNRPNA - Promedica North Region Prof Nurses Assoc
RNSMGH - RN Staff Cncl of Marquette Gen Hosp
RNSMTB - RN Staff Cncl of Martha T. Berry MCF
SCCHD - St. Clair Cnty HD Nursing Staff Cncl
SHCR - Sparrow Home Care Rehab
SHRNS - Sturgis Hosp Reg Nurse Staff Cncl
SMHPN - Schoolcraft Mem Hosp Prof Nurses' Cncl
TCMNA - Traverse City Munson Nurses Association
TRAHSC - Three Rivers Area Hosp Staff Cncl
UMPNC - Univ of Michigan Prof Nurse Cncl
WCMNA - Washtenaw Cnty MNA - Unit I
WMNA - War Mem Nurses Assoc Staff Cncl
WSHRN - West Shore Hosp RN Staff Cncl
WUPHD - Western U.P. District HD Nurses' Cncl